County Engineers Workshop
​2018 County Engineer's Workshop
February 13-15, 2018 — Shanty Creek Resorts, Bellaire, Michigan
​(registration information to follow)
2017 County Engineers' Workshop
January 31 - February 2, 2017 — Sault Ste. Marie, Michigan
Click the image below to view the event flyer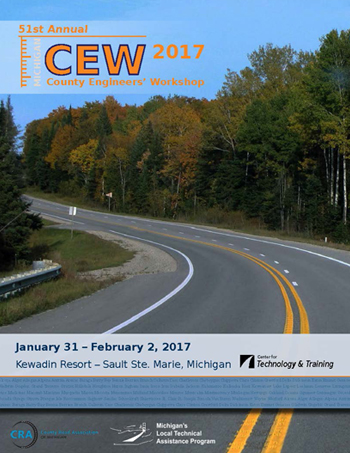 Presentations
1.  Risks, Priorites, & Advocacy with New Road Funding
    Kirk Steudle - MDOT
2a.  Adressing Risk in GI Packaging: General Tips
    Bruce Kadzban - MDOT
2b.  Adressing Risk in GI Packaging: Avoiding Stalls with NEPA Certification and Gederal Funding
    Mark Harrison - MDOT
2c.  Adressing Risk in GI Packaging: Rail Crossing Tips and Tricks
    Kris Foondle - MDOT
3.  Adressing Risk in GI Packaging: Soil Borings, Pavement Coring, and Geotechnical Review Effects on Pavement Design
    Michael Duell - MDOT
4.  Adressing Risk in GI Packaging: Latest in Work Zone Review and MOT Plans
    Chris Brookes & Chuck Bergmann - MDOT
5.  Using Social Media to you Advantage
    Jake Welch - Barry County Road Commission
    Cindy Dingell - Oakland County Road Commission
    Larry Hummel - Van Buren County Road Commission
6.  Looking Outside the Lines - Road Safety Program
    Ray Roberts - Marquette County Road Commission
7.  Wage Rate Interview & Payroll-related Issues
    Adam Strong - MDOT
8.  Choosing the Appropriate Coating for Metal Pipes
    Mike McGough - National Corrugated Steel Pipe Association
9.  Engineering Subcommittee Reports
    Bob Lindbeck - CRA of Michigan
10.  Mainstream Media Relations
    Ari Adler - Office of Governor Rick Snyder
11.  Raveling of New Chip Seals in Emmet County
    Brian Gutowski - Emmet County Road Commission
12.  Engineering Effective PowerPoint Slides
    Victoria Sage - Center for Technology &  Training - Michigan LTAP
13.  The Benefits & Pitfalls of Electronic Bidding
    Jeff O'Brien - Road Commission for Oakland County
14.  Thawcaster - How to Get Accurate Forecasts for Reducing Road Limits
    Wayne Schoonover - Mason County Road Commission
    Sean Thorpe - Michigan LTAP
15.  Successful PA 283 Process & Program
    Roy Townsend - Washtenaw County Road Commission
16.  MDOT & CRC Experiences with e-Construction - Broken link - will be repaired soon!
    Kelly Crannell - MDOT
    Wayne Harrall - Kent County Road Commission
    Sheryl Soderholm Siddall - Washtenaw County Road Commission
17.  Local Highway-Railroad Crossing Programs - Broken link - will be repaired soon!
    Tina Hissong & Kris Foondle - MDOT - Office of Rail
18.  Soo Locks Presentation
    Jim Peach - US Army Corps of Engineers
19.  FHWA Update
    Kurt Zachary - Federal Highway Administration
20.  MDOT Update
    Bruce Kadzban - Michigan Department of Transportation
21.  Michigan DEQ Update
    Jim Watling - Michigan Department of Environmental Quality
    Jeff Silagy - Michigan Department of Environmental Quality 
22.  NACE Update
    Wayne Schoonover - Mason County Road Commission
23.  CRA Update
    Denise Donohue - Country Road Association of Michigan
24.  ACEC Qualifications Based Selection
    Steve Williams - American Council of Engineering Companies
25.  LTAP Update
    Pete Torola - Center for Technology & Training - Michigan LTAP
Continuing Education
The 2017 County Engineers' workshop counts for 15.5 instructional hours for Continuing Education for Professional Engineers. See the CTT's policy for Continuing Education for Professional Engineers in Michigan here.
Registration
Cancellation Policy: No-shows and cancellations within three business days prior to the workshop or conference will be charged the full registration fee. Substitutions will be accepted.
CEW is open to engineering consultants, engineers, and surveyors from municipalities and public agencies as well as CRA Associate Members. Seating is limited; please register early to ensure participation.  
Cost.............................................$215
Register here for the County Engineers' Workshop
Become an associate member of the CRA of Michigan here
Note: Michigan Tech reserves the right to use any pictures taken during this event for advertising and/or instructional purposes.
Accommodations
Rooms at the Kewadin Resort are available at a reduced rate of $72/night (plus tax). To make a reservation: Individuals call 906-632-0530 and mention the 2017 County Engineers' Workshop. Groups fill out and mail/fax this form. The deadline for reserving a room at the reduced rate is January 9.