Winter Operations Conference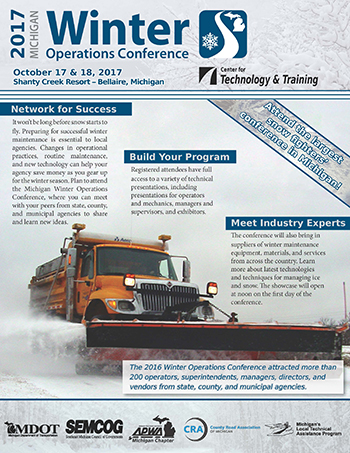 October 17-18, 2017
Shanty Creek Resorts – Bellaire, Michigan
The 2018 Michigan Winter Operations Conference will be your chance to:
Network with Fellow Snowfighters
Preparation is the key to a successful season of winter maintenance. New technologies, changes in operational practices, and routine maintenance can all save your agency money once the snow starts to fly. To help you gear up for next snow season, attend the Michigan Winter Operations Conference where you can listen to, learn from, and share ideas with your peers from state, county, and municipal agencies.
As a registered attendee, you will have full access to over 20 technical presentations, including a series for operators and mechanics and another for managers and supervisors. Check out the 2017 conference agenda to see a sample line up of presentations.
Meet with Industry Experts
In addition to your choice of technical presentations, this year's conference will feature suppliers of winter maintenance equipment, materials, and services from across the country. The supplier showcase will give you a unique opportunity to learn more about the latest technologies and techniques for managing ice and snow. The showcase will include indoor booths and outdoor equipment displays. 
You can learn more about the Michigan Winter Operations Conference by exploring the agenda (posted above) and presentations from our 2017 conference.
Register Early!
Early registration for the 2018 Michigan Winter Operations Conference will begin late summer 2018 and last until early October. Stay tuned for more information!
The registration fee includes:
Conference handouts and other materials

Food and refreshments for all meals and breaks listed on the agenda

Full access to all technical sessions, exhibit space, and outdoor equipment area

After dinner networking session
Please check back in summer 2018 for the event flyer, which will include the conference agenda and a link to the accommodation booking information.
Questions? Email ctt@mtu.edu or call 906-487-2102.
No-shows or cancellations within three business days of the conference will be charged the full registration fee. Substitutions will be accepted.
Lodging
The conference will be held at Shanty Creek Resorts. Booking of accommodations is the responsibility of attendees. Booking information will be posted here as soon as it becomes available.
October 17-18, 2017 – Shanty Creek Resorts & Conference Center – Bellaire, Michigan
Be a part of it!
Expert practitioners know that preparation is the key to a successful season of winter maintenance. By exhibiting at the Winter Operations Conference your company can be a part of the planning process as state, county, and municipal agencies gear up for the winter ahead.
The conference is an excellent opportunity to:
Showcase your equipment, products, and services
Network with decision-makers and influencers
Listen to presentations by local Michigan agencies and other experts from across the United States
They'll be looking for you!
Equipment, materials, and services are key pieces of the winter maintenance puzzle. Attendees will be looking for you to help them put the pieces together. Don't miss this chance to talk to decision-makers about how you can help them prepare for the coming winter.
Registration Information
Early Exhibitor Registration is now open. Please download our 2017 Exhibitor Registration form. 
Apply early for a discounted rate.
The available early exhibitor booths are shown in the image, which was updated on July 10, 2017, below: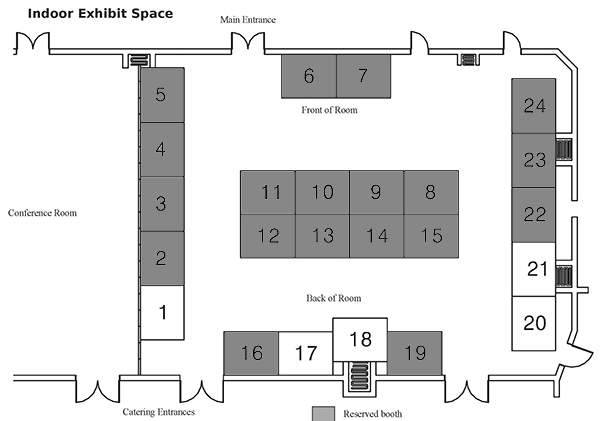 Lodging
Book an overnight room at reduced rates at Shanty Creek Resorts: http://reserve.shantycreek.com/?g=449926. Studio parlors (at $102/night) or standard guest rooms (at $92/night) are both located within Shanty Creek Resorts.
The deadline for reserving a room is September 16. Reservations made after the deadline may be subject to official resort rates.