County Engineers Workshop - Attend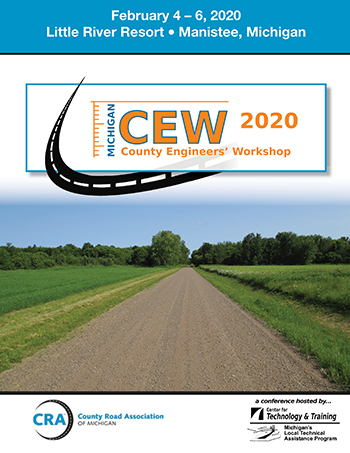 Click the image above to view the event flyer
REGISTRATION FOR CEW
Join us for the 2021 County Engineers' Workshop! Registration for the 2021 CEW will open in November/December 2020. The conference flyer will list presentations and speakers for the 2021 County Engineers' Workshop.
The registration fee includes:
Full access to all technical sessions and networking opportunities
Conference handouts and other materials
Food and refreshments for all meals and breaks listed on the agenda
Registration does not include accommodations; the conference flyer contains details on accommodations that are available for participants. Please notify us in advance if you have special dietary needs.  NOTE: Michigan Tech reserves the right to use any pictures taken during this event for advertising and/or instructional purposes.
CANCELLATION POLICY: No-shows and cancellations within three business days prior to the workshop or conference will be charged the full registration fee. Substitutions will be accepted.
Questions? E-mail ctt@mtu.edu or call (906) 487-2012.
CONTINUING EDUCATION
The Michigan County Engineers' Workshop counts for instructional hours for continuing education for professional engineers. The number of hours is noted in the conference flyer. The CTT's continuing education policy is available at ctt.mtu.edu/continuingeducation.
---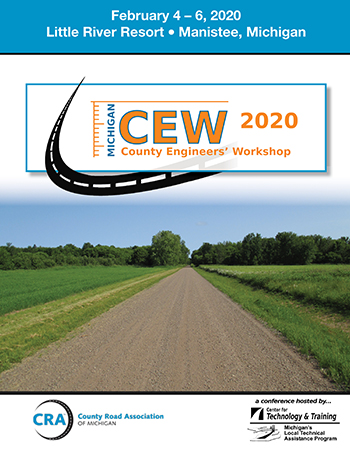 PRESENTATIONS AT THE 2020 CEW
1. Federal-aid 101 Basics
Ted Burch, MS, PE—Federal Highway Administration
Eric Purkiss—Federal Highway Administration
2. Federal-aid 101 Basics (cont.)
Ted Burch, MS, PE—Federal Highway Administration
Kelly Crannell, PE—Michigan Department of Transportation
Tracie Leix, PE—Michigan Department of Transportation
Eric Purkiss—Federal Highway Administration
Video of Federal-aid Basics 101
 
3. MDOT's New Direction
Tony Kratofil, PE—Michigan Department of Transportation
4. Roundabouts: Washtenaw County Experiences
Matthew MacDonell, PE—Washtenaw County Road Commission
Mark McCulloch, PE—Washtenaw County Road Commission
5. NACE National Perspective
Kevan Stone—National Association of County Engineers
6. You're Going to Build What?! Communicating with the Public About All Types of Road Work
Emily Kizer—Washtenaw County Road Commission
PRESENTATIONS - Day 2
7. Roadsoft: Overcoming Obstacles to Effective Use
Larry Brown—L.W. Brown Consulting
Nick Koszykowski—Center for Technology & Training
8. Panel—Selling versus Buying Federal-aid Dollars: Why Do It?
Angela Kline, PE—Jackson County Department of Transportation
Dennis Kolar, PE—Road Commission for Oakland County
Jason Latham—Berrien County Road Commission
Lance Malburg, PE—Dickinson County Road Commission
Jake Welch—Barry County Road Commission
9. Berrien County Asset Management Plan
Kari Bennett, CPA—Berrien County Road Department
Kevin Stack, PE—Berrien County Road Department
10. Panel—Innovative County Projects using Fiber & Rubber
Wayne Harrall, PE—Kent County Road Commission
Jason Latham—Berrien County Road Commission
Lance Malburg, PE—Dickinson County Road Commission
Ryan Minkus, PE—Road Commission of Kalamazoo County
11. More for Less: The Surprising Way to Save Money on Infrastructure Projects using QBS
Steve Williams, MS, PE—American Council of Engineering Companies
12. Panel—Township Participation Efforts, Asset Management, & Education
Craig Atwood, PE—Allegan County Road Commission
Angela Kline, PE—Jackson County Department of Transportation
John Midgley, PE—Calhoun County Road Commission
Matthew Snell, MS, PE—Monroe County Road Commission
Doug Steffen—Clinton County Road Commission
13. GRS-IBS In Midland County
Craig Schripsema, PE—OHM Advisors
Terry Palmer, PE—OHM Advisors
14. Pavement Preservation & Recycling Alliance RoadResource.org Website & Calculator Tools Overview
Scott Assenmacher, PE—Asphalt Materials, Inc.
Lindsay Matush—Vario Consulting
PRESENTATIONS - Day 3
15. CRA of Michigan Update
Steve Puuri, PE—County Road Association of Michigan & Michigan Municipal League
16. MDOT Rural Program Update
Josh Grab, MA—Michigan Department of Transportation Statewide Planning
17. LTAP Update
Zack Fredin, PE—Center for Technology & Training
Andy Manty, PE—Center for Technology & Training
Pete Torola, PE—Center for Technology & Training
18. SHPO Update
Brian Grennell—State Historic Preservation Office
Martha MacFarlane-Faes—State Historic Preservation Office
19. MDOT LAP Update
Kelly Crannell, PE—Michigan Department of Transportation
Ryan Doyle, PE—Michigan Department of Transportation Local Agency Program
Bruce Kadzban, PE—Michigan Department of Transportation
Tracie Leix, PE—Michigan Department of Transportation
20. EGLE Update & Scrap Tire Program
Kirsten Clemens, PE—Michigan Department of Environment, Great Lakes & Energy—Materials Management Division
Jim Watling, PE—Michigan Department of Environment, Great Lakes, & Energy