WinterOps - Attend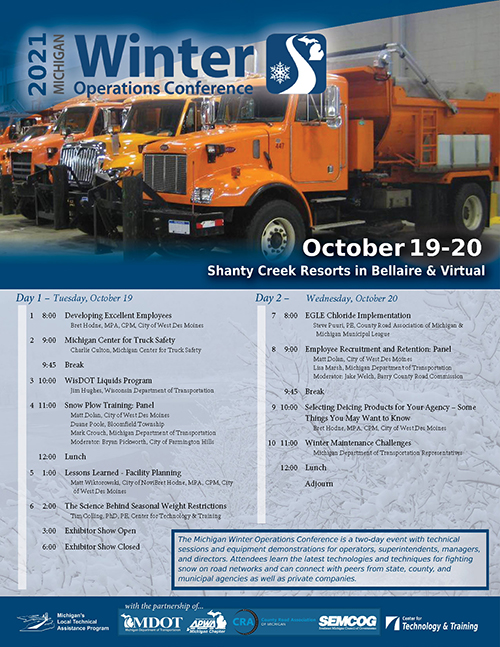 Mark your calendar for Winter Ops flyer (click to view)
REGISTRATION
Registration for this event is currently closed.
More information about the event will be in the conference flyer and is listed below.
The conference registration fee includes:
Full access to all technical sessions and exhibits
Live virtual interaction with all presenters
Conference handouts and other materials (digital and/or hard copy depending participation mode)
Participation in the Ugly Snow Plow Competition (TBD)
For on-site registrants: registration does not include accommodations although the event flyer will contain details on accommodations that are available for participants; also, please notify us in advance if you have special dietary needs. NOTE: Michigan Tech reserves the right to use any pictures taken during this event for advertising and/or instructional purposes.
Check out the presentations from the 2020 Winter Operations Conference, below, to see a sampling of the topics covered during the conference.
CANCELLATION POLICY: No-shows and cancellations within three business days prior to the event will be charged the full registration fee. Substitutions will be accepted.
Questions? E-mail ctt@mtu.edu.
Continuing Education
The conference will count for instructional hours for continuing education for professional engineers; the number of hours is yet to be determined. The CTT's continuing education policy is available at ctt.mtu.edu/continuingeducation.
---
A look back at 2020 Winter Operations Conference...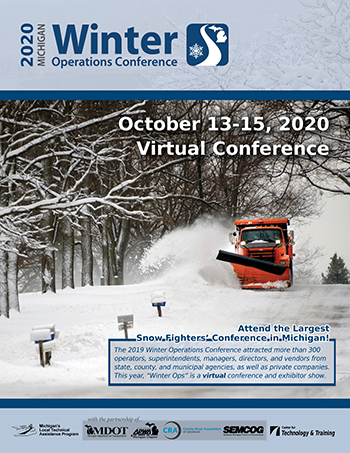 1. What Motor Carrier Regulations Apply to Me?
Charlie Culton—Michigan Center for Truck Safety
2. What Motor Carrier Regulations Apply to Me? (cont'd) and Q&A
Charlie Culton—Michigan Center for Truck Safety
3. Working with New Challenges in the Workforce
Duane Poole, Bloomfield Township
Matt Wiktorowski, City of Novi
4. Dealing with Truck Corrosion
Dave McDermott, Retired
5. Upcoming Trends in Winter Operations
Mark DeVries, Vaisala, Inc.
Brett Hodne, City of West Des Moines
6. Panel: Snow Plow Route Planning and Implementation
Bryan Pickworth, City of Farmington Hills
Jake Welch, Barry County Road Commission
7. EGLE Chloride Implementation Plan Update
Steve Puuri, CRA of Michigan & MML
Christie Alwin, Michigan EGLE
Phil Argiroff, Michigan EGLE Water Resources Division
8. Environmental Impacts of Winter Operations
Laura Fay, Montana State University and Western Transportation Institute
9. Best Practices for Utilizing Liquids in Winter Operations including Liquid-only Routes
Mark DeVries, Vaisala, Inc.
10. Gravel Roads and Winter Operations
Brian Jackson, Jacksons Heavey Equipment Training, LLC