Contract Management Conference - Attend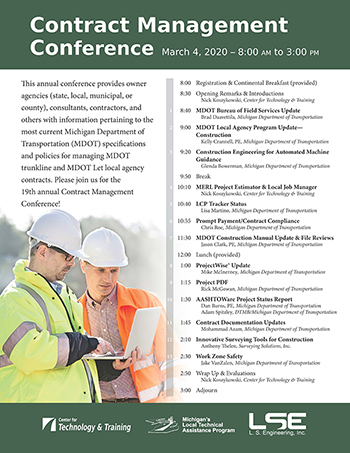 Sample of the 2020 conference flyer
Registration
Registration for this event is closed.
Additional conference details and the agenda will be available in the conference flyer.
The registration fee includes:
Access to all technical sessions for the event
Conference handous and other materials
Food and refreshments for meals and breaks listed on the agenda
Registration does not include accommodations; the conference flyer contains details on accommodations that are available to participants. Please notify us in advance if you have special dietary needs. NOTE: Michigan Tech reserves the right to use any pictures taken during this event for advertising and/or instructional purposes.
CANCELLATION POLICY: No-shows and cancellation within three business days prior to the conference will be charged the full registration fee. Substitutions will be accepted.
Questions? E-mail ctt@mtu.edu or call (906)487-2102. 
Continuing Education
This conference is subject to the Center for Technology & Training's (CTT) continuing education policy. The  CTT's Continuing Education for Professional Engineers in Michigan policy is availaable at ctt.mtu.edu/continuingeducation.
---
Presentations for the 2020 Contract Management Conference...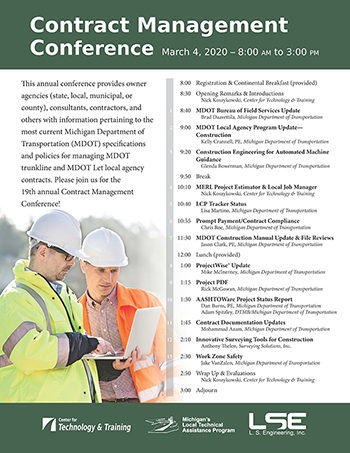 1. MDOT Bureau of Field Services Update
Brad Daavettila—Michigan Department of Transportation
2. MDOT Local Agency Program Update
Kelly Crannell, PE—Michigan Department of Transportation
3. Construction Engineering for Automated Machine Guidance
Glenda Bowerman—Michigan Department of Transportation
4. Contract Documentation Updates
Mohammad Azam, PE—Michigan Department of Transportation
5. Innovative Surveying Tools for Construction
Anthony Thelen, PS—Surveying Solutions, Inc.
6. Prompt Payment/Contract Compliance
Chris Roe—Michigan Department of Transportation
7. MDOT Construction Manual Update & File Reviews
Jason Clark, PE—Michigan Department of Transportation
8. ProjectWise Update
Mike McInerney—Michigan Department of Transportation
9. Project PDF
Rick McGowan—Michigan Department of Transportation
10. AASHTOWare Project Status Report
Dan Burns, PE—Michigan Department of Transportation
Adam Spitzley—Michigan Department of Transportation
11. MERL: Past, Present, and Future
Nick Koszykowski—Center for Technology & Training
12. LCP Tracker Status
Lisa Martino-Cook—WSP USA
13. Work Zone Safety
Jake VanZalen—Michigan Department of Transportation