Continuing Education for Professional Engineers in Michigan
Overview
On October 10, 2013 the Director's office of the Michigan Department of Licensing and Regulatory Affairs (LARA) filed general rules relating to continuing education requirements for licensed professional engineers in Michigan. The rules state that licensees must obtain 30 hours of professional development per two-year renewal period.
The Center for Technology and Training (CTT) recently hosted a webinar to elaborate on these rules. For more information visit the following links:
Most workshops, classes and webinars that the CTT offers will qualify for the Michigan continuing education requirements as defined by LARA:
R 339.16001 (d) "Continuing education" means an instructional course or activity designed to bring licensees up to date on a particular area of knowledge or skills relevant to a licensee's area of professional practice.
Upon request, the CTT will issue certificates of completion for training events. However, each licensee must determine for themselves if a specific training event is relevant to their area of professional practice and if it is appropriate for meeting their licensing requirement.
Record Keeping
Each licensee must retain continuing education records for all training events used to meet the 
requirements as defined in section R 339.16043:
The records shall include the following: (a) The courses or activities completed, the dates when the courses or activities were held and the duration of the courses or activities, the sponsoring organization, the instructor's or speaker's name, and the hours earned. (b) Verification of attendance at a course or activity, such as completion certificates or other supporting documentation.
The advertisements and certificates of completion for CTT training events provide all of the required information to meet these record keeping requirements. Course advertisements will remain available on CTT websites for several years, allowing you to retrieve historical training advertisements for your records. If you are missing a certificate of completion or required information for a specific training event, contact us and we will work with you to find the necessary information.
Webinar Policy
In order to receive a certificate of completion for attending a CTT webinar, individuals must meet both of the following requirements:
Be registered for the webinar through the CTT's office or website. Registration needs to be completed before the end of the webinar. Each registration will include the applicable charges for the webinar, regardless of how many connections are used.

Have their attendance verified by filling out the sign-in form (shown below). This form will be available as a PDF download in the Downloads Pod at the beginning of the webinar. It must be signed and returned (email or fax)* within 24 hours of the webinar start time.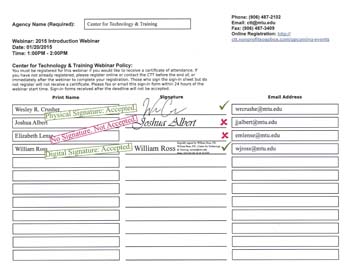 Recordings of Training Events
The CTT often produces recordings of webinars and conferences. However, the CTT only issues certificates for live events; the CTT does not issue certificates for watching recordings of webinars or training videos.
CTT Fax: (906) 487-3409
CTT Email: ctt@mtu.edu